DRIVER INJURED IN 2 TRUCK COLLISION AT MOUNT LAMBIE A 19 year old Wollongong ma…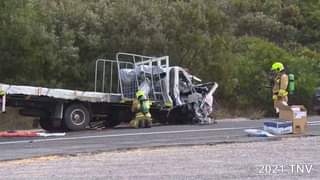 DRIVER INJURED IN 2 TRUCK COLLISION AT MOUNT LAMBIE
A 19 year old Wollongong man was taken to the Lithgow Hospital this afternoon after the pantech he was driving was involved in a collision with a semi-trailer
on the Great Western Highway at Mount Lambie, between Lithgow and Bathurst.
The accident occurred near Bonaventure Road at 2:30pm.
Police believe the west bound Pantech crossed to the incorrect side of the road and side-swiped the oncoming truck and dog, extensively damaging the pantech, and rupturing the fuel tanks on both vehicles in the process.
The pantech driver was treated on scene by Lithgow Ambulance Paramedics before being transported to the Lithgow Hospital suffering head… More