BREAKING NEWS – BELLS LINE OF ROAD TO REOPEN THIS WEEK One lane is set to reope…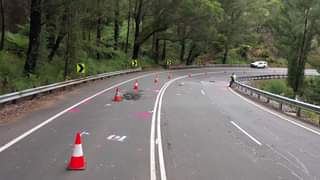 BREAKING NEWS – BELLS LINE OF ROAD TO REOPEN THIS WEEK
One lane is set to reopen on Bells Line of Road this week allowing drivers to travel in both directions at a reduced speed limit of 40 km/h.
Minister for
Transport and Roads Andrew Constance said Transport for NSW crews assessed the road after it was damaged by last month's severe weather event, and are patching significant potholes between Bell and Mount Tomah.
"Drivers will be able to travel all the way from Windsor to Lithgow on Bells Line of Road without any closure points, but there could still be traffic delays in the area due to the changed conditions" Mr Constance said
"Crews are currently carrying out patching work and they… More
Click here to view the original post.